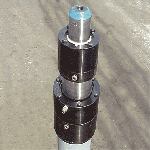 Jack Replacements
Jack Replacements – An elevator jack replacement in your building or home is an asset that pays for itself in better safety and smooth operation, and extends the life of your elevator.

An elevator jack is an intricate and vital component with lots of functioning parts. You need a trustworthy, knowledgeable team to ensure the job is done quickly and correctly.

Over time, rusty or leaky welds can take place that causes elevators to descend at uncontrolled speeds due to the loss of oil or pressure in the cylinder.

Clark Elevator Service Co. is a private company that provides services in all of South Florida. Our Certified Elevator Technicians carry with them over 30 years of experience. We will provide you with the best 24-hour customer service support and excellent quality of work. Our company specializes in Elevator Services, Lifts, Escalators, Walkways, Repairs, Maintenance, Upgrades, and Modernization.
Get In Touch With Us
Toll Free:
1-800-592-4818
Phone:
305-363-5885
Fax:
305-363-5884
Email:
info@clarkelevator.com
Location:
10891 NW 17th St #148, Miami, FL 33172
Contact Form